Christmas and Holiday Season Gifts
Santa's on his way – and this year, he'll have a helping hand from medino. We've got gift sets for skincare lovers; budding makeup artists; little one's to teenagers; parents and parents-to-be; partners; and just about everyone in-between.
From Baylis & Harding to Bloom & Blossom, Green People to even FRIENDS (that's right... the Holiday Armadillo is here), you'll find that perfect gift set, stocking filler or Secret Santa for that special someone for even less. Take a look at our Gift section now, or get some inspiration below.
PLUS, we're running a feelgood competition to give you that festive feeling: spend £25+ with us and sign up to our newsletter (if you're already signed up, you're covered), and you'll automatically be entered for the chance to win your order free!* It's one winner every day from now until the 20th of December – stock up with us, and you might just get lucky.
Don't forget – we've got free next day delivery on orders over £25. That's last-minute shopping covered.
*T&C's apply – see bottom of this page for details.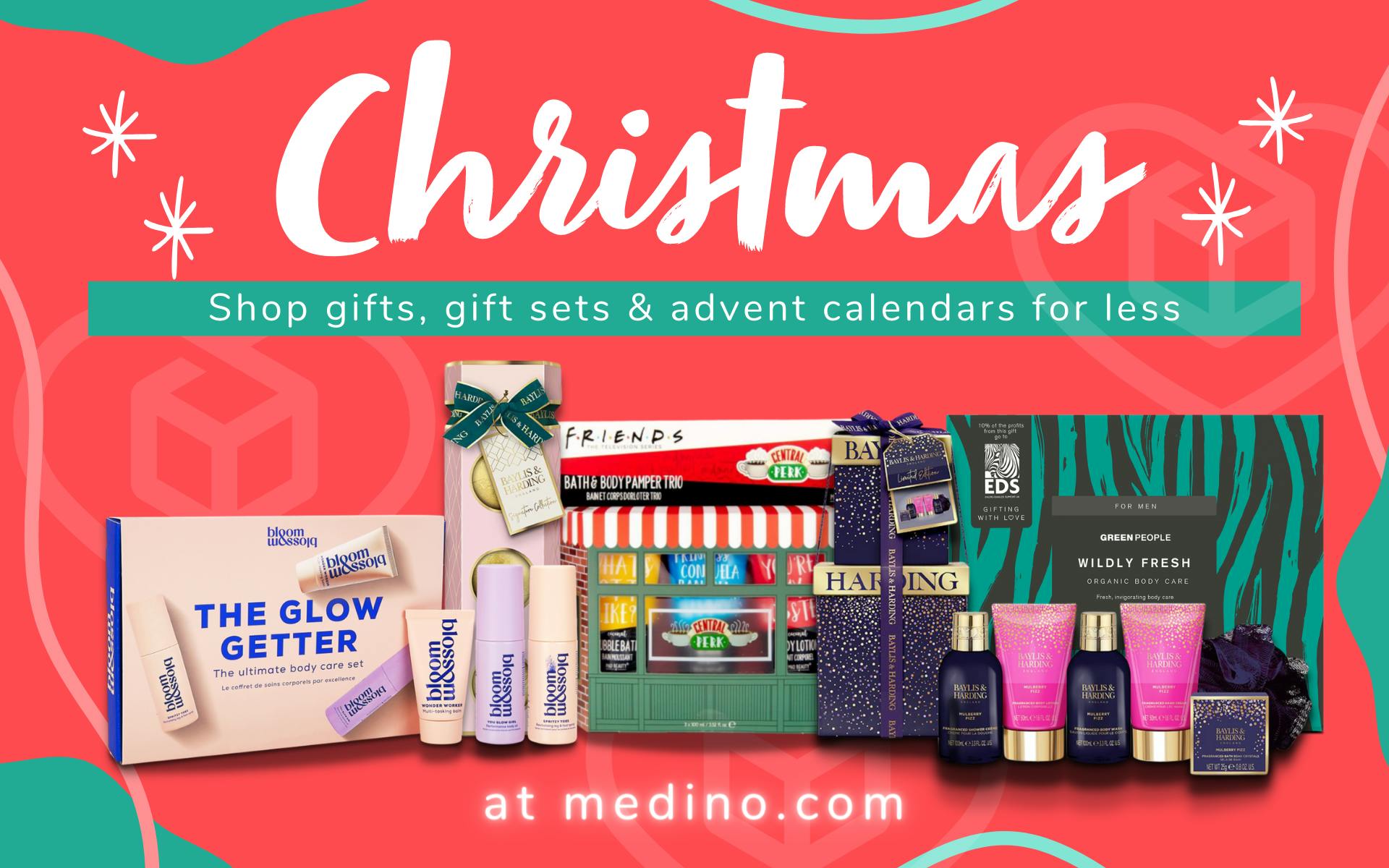 ---
Win one order FREE per day: Terms & Conditions
Medino Online Ltd, a company registered in England (10942132 VAT number 280678768) with a registered office in London E14 9RL. During the dates of the 8th to the 20th December 2021, medino are offering the chance for one customer per day to have their order value refunded.
1.0 Eligibility:
1.1 Offer open to mainland UK residents aged 18 and over only, except employees of Medino Online Ltd, their immediate families and agents, and anyone else professionally connected with the offer. This prize cannot be shipped to non-mainland UK addresses.
1.2 Maximum one entry per e-mail address/person per day between 8th - 20th December 2021.
1.3 To enter the draw, a minimum spend threshold of £25 must be met.
1.4 To be eligible the winner must be subscribed to Medino's marketing emails.
2.0 To Receive The Refund
2.1 One winner per day will be chosen at random. We will aim to contact the winner within 4 days of the order being placed.
2.2 The maximum refund value is £100, if the winning order is above this value then £100 will be refunded.
2.3 Please allow 28 days for the refund to be processed from the date of the winner announcement.
2.4 If the winner does not respond to the medino team within 10 days the refund will not be processed.
2.5 The end date is 23:59 20th December 2021. No orders will be included after this time.
3.0 General
3.1 Medino Online Ltd reserves the right to amend these Terms and Conditions, or to discontinue the Offer at any time.